Golf coaching is all about you and what you want to get out of your game. We pride ourselves on being good listeners and aim to provide the best possible professional advice, whilst ensuring each lesson is tailored and enjoyable for the golfer.
Why Coaching?
We're passionate about helping you play your best golf.
Every golfer enjoys the game more when they're hitting good shots and playing well. This is our mission for you.
Think back to your last few rounds and try to pinpoint an area that cost you shots…
Maybe, you had too many three-putts as a result of poor distance control? Or did you miss too many fairways to the right meaning you had to chip out sideways? It could be that you play well in practice rounds with your friends but struggle to replicate that in competitions?
Through our experiences in the game and our PGA education, we appreciate that every golfer is different. That's why we offer a range of lessons and packages to suit everyone.
Lessons will cover:
Short Game
Long Game
Course Management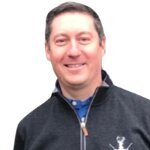 Paul Eady - PGA Golf Professional
I qualified as a PGA Golf Professional in 1996, I have worked at several different golf clubs in that time and I have also spent 5 years teaching and custom fitting full time indoors in Canary Wharf at the Golf Lab using golf simulators. I have complete confidence in the information from the launch monitor in projecting your shots accurately. I have been coaching for over 20 years and in my time I have seen thousands of different golfers and no two players swings are ever the same, and that also includes the best players in the World, my teaching ethos is to work with the players ability from the beginner through to the scratch golfer, and work with your goals and time availability. I have the knowledge to help all of my pupils improve their skills lower their scores to play their best golf. I still have a passion for playing this great game and pride myself with still being able to play at a high level which is an essential part of any coaches credentials to assist with all aspects of the game. The indoor coaching studio is actually the best environment to make any swing changes as you can do this with minimal distractions to allow you to focus on improving the positions of your swing.
---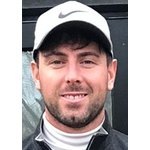 Lewis Atkinson - Golf Professional
I Turned Professional in 2009, I have spent the majority of that time as a full time player on the EuroPro, Jamega and Thompson Tour's having competed in European Tour qualifying on several occasions. I have been playing golf since I was 8 years old and have also represented Essex as an amateur competing in many team and national events. I have had lessons from many of the games top coaches in golf and I use the information that I have received from them to assist me in my lessons. I believe in not only helping people maximise their potential through solid fundamentals and swing mechanics but also helping my pupils create a better understanding of their golf game as a whole in terms of course management and strategy. Having played competitively all over the world I believe the knowledge I have gathered can help you improve your game and together we can reach your goals. I have a passion for Junior development as we are currently working on building a Junior section at the golf Club. All of our golf lessons in the simulator include video analysis as standard and your lesson content is emailed to you with voice notes so that you have a clear understanding of your faults and how to fix them.
---